Isopropamide Iodide USP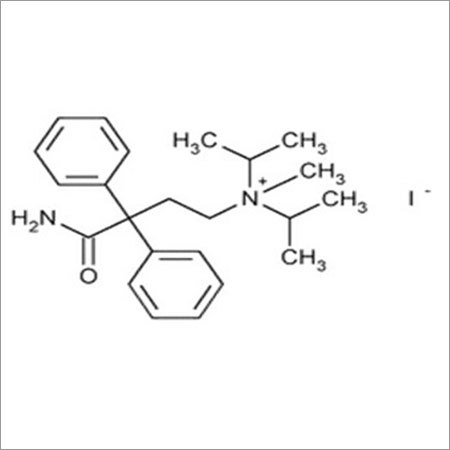 Isopropamide Iodide USP
Product Description
Fostered with immense expertise in this domain, we have been affianced in offering an optimum grade Isopropamide Iodide USP. This iodide is formulated using quality approved chemical compounds by our ingenious professionals at advanced processing unit. Provided iodide finds its use in treatment of gastrointestinal disorder, ulcer, hyperacidity etc. Tested on various quality parameters before dispatch, this Isopropamide Iodide USP can be purchased from us at industry leading prices.
Key points:
Free from impurity
Highly effective results
Longer shelf life
Safe to use

ISOPROPAMIDE IODIDE USP
ISOPROPAMIDE IODIDE USP, a pharmaceutical chemical with C23-H33-I-N2-O Chemical formula and 480.4267 molecular weight. This long-acting quaternary anticholinergic drug treats several gastrointestinal disorders marked by hypermotility & hyperacidity and peptic ulcer, given orally. Also, for its antisecretory and antispasmodic effect on the gastrointestinal tract, this chemical is widely used. They are preserved in well-closed and light-resistant containers to ensure the full effect of the chemical.
Technical Details:

Scheme
Rec.INN
CAS registry number (Chemical Abstracts Service)
0000071-81-8
Chemical Formula
C23-H33-I-N2-O
Molecular Weight
480
Therapeutic Categories
Gastric acid secretion inhibitor Antispasmodic agent Muscarinic receptor antagonist (anticholinergic, parasympatholytic agent)
Chemical Name
Benzenepropanaminium, -(aminocarbonyl)-N-methyl-N,N-bis(1-methylethyl)--phenyl-, iodide
Foreign Names
Isopropamidi Iodidum (Latin)
Isopropamid iodid (German)
Iodure d'Isopropamide (French)
Ioduro de isopropamida (Spanish)
Generic Names
Isopropamide Iodide (OS: JAN, BAN)
Isopropamide ioduro (OS: DCIT)
Isoproponum (IS)
MD 5579 (IS)
R 79 (IS)
Isopropamide Iodide (PH: USP 34)
Glossary
| | |
| --- | --- |
| Term | Definition |
| BAN | British Approved Name |
| DCIT | Denominazione Comune Italiana |
| IS | Inofficial Synonym |
| JAN | Japanese Accepted Name |
| OS | Official Synonym |
| PH | Pharmacopoeia Name |
| Rec.INN | Recommended International Nonproprietary Name (World Health Organization) |