Valproic Acid BP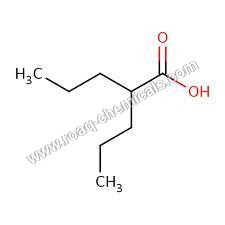 Valproic Acid BP
Product Description
Since our inception in the year 1989, we have been engrossed in providing the pristine grade Valproic Acid BP. This acid is formulated using top quality chemical compounds by our dexterous professionals at our advanced production unit. Offered acid is very effective in the treatment of partial, generalized and absence seizures. Additionally, this acid is used for curing migraine headaches. This Valproic Acid BP can be availed from us at nominal prices.
Key Points:
Longer shelf life
Non toxic
Adulteration free
Safe to use

---
Valproic Acid BP
With the dedication and hard work of our team of seasoned professionals, we have a carved a niche in this domain by offering industry grade Valproic Acid BP globally. The worth of this drug was been discovered while it was being used for carrying other compounds as a carrier. Further, this drug is used for treating and curing epileptic seizures following to their patterns. We formulate this drug in compliance with the set industry norms under utmost hygienic conditions. Our esteemed patrons can avail the offered Valproic Acid BP at market leading prices.
Specifications:
Chemistry. Valproic acid (n-dipropylacetic acid) is a simple branched-chain carboxylic acid.

Certain other branched-chain carboxylic acids have potencies similar to that of valproic acid in antagonizing pentylenetetrazol-induced convulsions. However, increasing the number of carbon atoms to nine introduces marked sedative properties. Straight-chain acids have little or no activity.

Pharmacological Effects. Valproic acid is strikingly different from phenytoin or ethosuximide in that it is effective in inhibiting seizures in a variety of models. Like phenytoin and carbamazepine, valproate inhibits tonic hindlimb extension in maximal electroshock seizures and kindled seizures at nontoxic doses. Like ethosuximide, valproic acid at subtoxic doses inhibits clonic motor seizures induced by pentylenetetrazol. Its efficacy in diverse models parallels its efficacy against absence as well as partial and generalized tonic-clonic seizures in humans.

Mechanism of Action. Valproic acid produces effects on isolated neurons similar to those of phenytoin and ethosuximide. At therapeutically relevant concentrations, valproate inhibits sustained repetitive firing induced by depolarization of mouse cortical or spinal cord neurons. The action is similar to that of both phenytoin and carbamazepine and appears to be mediated by a prolonged recovery of voltage-activated Na+ channels from inactivation. Valproic acid does not modify neuronal responses to iontophoretically applied GABA. In neurons isolated from the nodose ganglion, valproate also produces small reductions of the low-threshold (T) Ca2+ current at clinically relevant but slightly higher concentrations than those that limit sustained repetitive firing; this effect on T currents is similar to that of ethosuximide in thalamic neurons. Together, these actions of limiting sustained repetitive firing and reducing T currents may contribute to the effectiveness of valproic acid against partial and tonic-clonic seizures and absence seizures, respectively.

Another potential mechanism that may contribute to valproate's antiseizure actions involves metabolism of GABA. Although valproate has no effect on responses to GABA, it does increase the amount of GABA that can be recovered from the brain after the drug is administered to animals. In vitro, valproate can stimulate the activity of the GABA enzyme, glutamic acid decarboxylase, and inhibit GABA degradative enzymes, GABA transaminase and succinic semialdehyde dehydrogenase. Thus far it has been difficult to relate the increased GABA levels to the antiseizure activity of valproate.

Pharmacokinetic Properties. Valproic acid is absorbed rapidly and completely after oral administration. Peak concentration in plasma is observed in 1 to 4 hours, although this can be delayed for several hours if the drug is administered in enteric-coated tablets or is ingested with meals. The apparent volume of distribution for valproate is about 0.2 L/kg. Its extent of binding to plasma proteins is usually about 90%, but the fraction bound is reduced as the total concentration of valproate is increased through the therapeutic range. Although concentrations of valproate in CSF suggest equilibration with free drug in the blood, there is evidence for carrier-mediated transport of valproate both into and out of the CSF.

The vast majority of valproate (95%) undergoes hepatic metabolism, with less than 5% excreted unchanged in urine. Its hepatic metabolism occurs mainly by UGT enzymes and b-oxidation. Valproate is a substrate for CYP2C9 and CYP2C19, but metabolism by these enzymes accounts for a relatively minor portion of its elimination. Some of the drug's metabolites, notably 2-propyl-2-pentenoic acid and 2-propyl-4-pentenoic acid, are nearly as potent antiseizure agents as the parent compound; however, only the former (2-en-valproic acid) accumulates in plasma and brain to a potentially significant extent. The half-life of valproate is approximately 15 hours but is reduced in patients taking other antiepileptic drugs.



Toxicity. The most common side effects are transient gastrointestinal symptoms, including anorexia, nausea, and vomiting in about 16% of patients. Effects on the CNS include sedation, ataxia, and tremor; these symptoms occur infrequently and usually respond to a decrease in dosage. Rash, alopecia, and stimulation of appetite have been observed occasionally and weight gain has been seen with chronic valproic acid treatment in some patients. Valproic acid has several effects on hepatic function. Elevation of hepatic transaminases in plasma is observed in up to 40% of patients and often occurs asymptomatically during the first several months of therapy.

A rare complication is a fulminant hepatitis that is frequently fatal. Pathological examination reveals a microvesicular steatosis without evidence of inflammation or hypersensitivity reaction. Children below 2 years of age with other medical conditions who were given multiple antiseizure agents were especially likely to suffer fatal hepatic injury. At the other extreme, there were no deaths reported for patients over the age of 10 years who received only valproate. Acute pancreatitis and hyperammonemia also have been frequently associated with the use of valproic acid. Valproic acid can also produce teratogenic effects such as neural tube defects.

Plasma Drug Concentrations. The concentration of valproate in plasma that is associated with therapeutic effects is approximately 30 to 100 mg/ml. However, there is a poor correlation between the plasma concentration and efficacy. There appears to be a threshold at about 30 to 50 mg/ml; this is the concentration at which binding sites on plasma albumin begin to become saturated.

Drug Interactions. Valproate primarily inhibits the metabolism of drugs that are substrates for CYP2C9. Valproate also inhibits UGT and thus inhibits the metabolism of lamotrigine. A high proportion of valproate is bound to albumin, and the high molar concentrations of valproate in the clinical setting result in valproate's displacing phenytoin and other drugs from albumin. With respect to phenytoin in particular, valproate's inhibition of the drug's metabolism is exacerbated by displacement of phenytoin from albumin. The concurrent administration of valproate and has been associated with the development of absence status epilepticus; however, this complication appears to be rare.

Therapeutic Uses. Valproate is effective in the treatment of absence, myoclonic, partial, and tonic-clonic seizures. The initial daily dose usually is 15 mg/kg, increased at weekly intervals by 5 to 10 mg/kg per day to a maximum daily dose of 60 mg/kg. Divided doses should be given when the total daily dose exceeds 250 mg.

Pharmacopoeial standard: Our company has the license to manufacture valproic acid of following pharmacopoeial standard:

VALPROIC ACID USP / VALPROIC ACID BP / VALPROIC ACID IP
Product Name
2-Propylpentanoic acid
Chemical Formula
C8 H16 O2
Molecular weight
144.21 g / mole
CAS No.
99-66-1
TECHNICAL SPECIFICATIONS
1. Description
A colorless or very slightly yellow, clear liquid , slightly viscous.
2. Solubility
Very slightly soluble in water, miscible with ethanol / methanol and with methylene chloride.
3. Identification
A. Infrared Absorption: IR spectrum of sample is concordant with IR spectrum of valproic acid RS
B. Retention time of valproic acid in test soln corresponds to the retention time of standard solution in assay test.
4. Water
Not more than 1.0%
5. Residue on ignition
Not more than 0.1%

6. Heavy metal
Not more than 0.002%
7. Chromatographic purity
Individual peak: not more than 0.1%
Sum of all secondary peaks : not more than 0.3%
8. Assay (on dry basis)
Not less than 98.0% and not more than 102% of C8H16O2, on anhydrous basis
Contact Us
41/B-5, GIDC, Estate, Behind Ashok Organics, Nandesari Vadodara Gujarat India 2780181
Phone :2780181